Three reasons that make microwave ovens a health hazard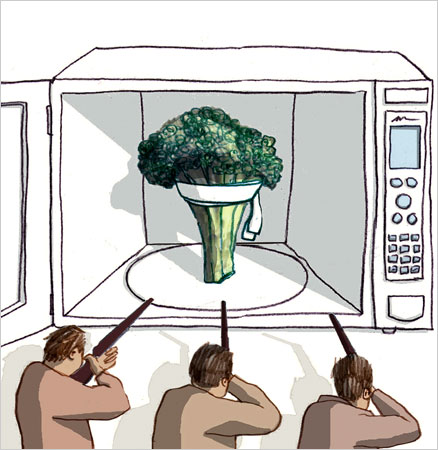 Before the microwave became popular in the late 60's, people used to actually cook their food using the oven or the stovetop and use fresh, wholefoods. The 'TV dinner' used to take 15 minutes in the oven. But now with a society that's fast paced, built on convenience and with the emergence of science and technology, the use of microwaves became a household necessity.
The science behind microwave cooking was supported by the food industry, claiming nutrients were protected and accompanied by health benefits, even though texture and the flavour of foods changed. However, science is proving this to be otherwise.
For example:
Cooking asparagus in the microwave causes a reduction in vitamins
Heating garlic in the microwave for as little as 60 seconds inactivates allinase, which is garlics principle active ingredient
Broccoli zapped in the microwave with water lost 97% of its beneficial antioxidants
Microwaves cause a higher degree of 'protein unfolding', which means the structure of protein and how it interacts in the body is compromised.
Microwaving breast milk loses its lysozyme activity (antimicrobial enzyme produced by animals that forms part of the innate immune system), antibodies and fosters the growth of more potentially pathogenic bacteria.
Microwaving fatty foods in plastic containers leads to the release of dioxins (carcinogens) and other toxins into the food.
Needless to say, an occasional microwaved meal isn't likely to cause harm, however continuous use of a microwave proves detrimental to the use of food as medicine.
Eating a diet rich in wholefoods that are prepared and eaten fresh or cooked by baking, sautéing, steaming and slow cooking is best advised. Adding in an array of fresh herbs, spices, nuts and seeds is the basis to any healthy long term nutritional changes. Wholegrains and legumes should be cooked on a stovetop by boiling and simmering until tender.
Here is a recipe that you can cook without the use of a microwave and in just 10 minutes! Enjoy.
Dr. Mercola adds further toxic dangers to the use of microwaves as a standard cooking tool:
"When plastic is heated, toxic chemicals like BPA and phthalates can leach out of the containers or covers, contaminating your food with endocrine and hormone disruptors. A paper published in 1990 reported the leakage of many toxic chemicals from the packaging of common microwavable foods, including pizzas, chips and popcorn. Chemicals included polyethylene terpthalate (PET), and well-documented carcinogens like dioxin, benzene, toluene and xylene."
"You might not be aware of this, but microwave ovens operate on gigahertz frequencies very similar to most 4G cellular networks. So, the danger AND the justifications why are identical. Conventional science and industry are clinging to the concept that these microwaves from your cell phones, portable phones, Wi-Fi routers, smart meters and wireless computers and tablets are not harmful because they do not cause any thermal damage.
New research from Professor Emeritus Martin Pall, Ph.D., has provided us with the mechanism of how this low level non-thermal microwave exposure causes biological harm. It has to do with voltage gated calcium channels (VGCCs) that are embedded in the cell membranes. He determined this by evaluating over two dozen studies showing you can radically reduce biological microwave damage using calcium channel blockers."