Sweet Potato & Red Cabbage Tikki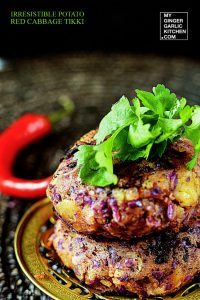 This Sweet Potato & Red Cabbage Tikki recipe is the perfect side dish to increase your vegetable servings,  or to have as a healthy snack throughout the day. With Indian inspired herbs and spices, this is a tasty accompaniment to add a boost of flavour to your meals.
Ingredients:
2 medium sweet potatoes, halved, boiled and peeled
1 cup red cabbage, shredded
1/2 tsp coriander seeds
1/2 cumin seeds
salt to taste
1 onion, finely chopped
1 green chili, chopped
1/4 tsp garam masala powder
1 tsp red chili powder (optional)
Rice bran oil for shallow frying
Fresh coriander for garnishing (optional)
---
Method:
Add all the ingredients to it except oil in a mixing bowl, and mash well.
Divide the mixture into 8-10 equal sized balls. Gently flatten them into a round shapes. Keep the mixture balls in a fridge for 30 minutes.
Heat a flat pan. Add some oil to it, and shallow fry. Serve with natural yogurt if desired.
Recipe adapted from mygingergarlickitchen.com