Is Natural Medicine Really 'Alternative'?
Natural medicine was up until recently the only medicine – period. It wasn't considered "an alternative." That only happened after corporate medicine's patented drugs came onto the scene and profit – not safety and efficacy – became the ultimate priority.
For example, if you were to enlarge and peruse the amazing 1930's pha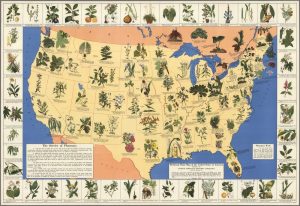 rmacist's map of 'herbal cures', you will see that most medicines in the United States were not so long ago extracted from herbs. Indeed, herbs are the first medicine of all cultures and still remain so in many instances.
Moreover, natural (traditional) systems of healing are undergoing a timely revival in popularity and are being re-integrated into health care systems worldwide. These systems bring to modern healthcare principles of healing that have remained unchanged since their inception – some of which date back thousands of years.
Hopefully I am stating the obvious when pointing out that there is no such thing as 'alternative biochemistry' – just 'biochemistry' – and that which influences and alters it.
Unlike modern medicine, where theories about the cause of a disease change based on new insights garnered from the science of the day, traditional systems provide a constant, unchanging understanding of the human species and its relation to nature. We are part of nature and the laws that govern nature also govern us.
Health is so much more than the mere absence of disease!
Having been diverted down a disease model of care by vested interest groups, we at Core Naturopathics believe it is time to introduce new paradigm of preventative health care in the consciousness of the greater community; a system whose focus is on health and its maintenance, rather than on disease and the use of medications for it symptoms.
The current disease oriented system in the west has led to a chronically ill society in which 90% of patients present with diet & lifestyle based conditions. These conditions are now our greatest killers. (Medicine however does miraculously well for the other 10% of acute and emergency care situations for which its systems are geared for).
So, given the current medical landscape (where natural substances are reviled and synthetic drugs revered) how do we reconnect to the most ancient, food, herb and mind-body based methods of healing? 
Interestingly enough, with science!  The problem is not a lack of evidence. There are hundreds of thousands of studies supporting the efficacy of natural therapies. Nature provides elegant solutions to virtually any problem the drug-based medical model says only it has the right treatment for. Proof is only a click away and our 'go to' resource at Core for easily searching and researching natural medicine is www.greenmedinfo.com .
Happy researching to you and if you find yourself needing some expert clarification or interpretation of your findings, the team at Core are only a phone call away.