Immune Boosting Chicken Soup
The name says it all really – fresh chicken soup in 10 mins! Can't complain with that…
Check out our post here about why Chicken Soup is so good for you.
Serves 4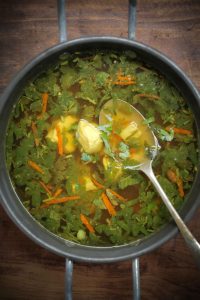 Cooking time: 10 minutes
Ingredients:
10 cloves garlic, smashed 
(approx 1 whole bulb)
2 tablespoon finely grated ginger
1 tablespoon fresh grated turmeric (see notes)
1 litre  chicken or vegetable stock
1 litre water
500 g free range/organic chicken breast, cut into chunks (see notes on using whole chicken)
2 bunches coriander, chopped
¼ cup (60 ml) mirin or rice wine (optional)
3 tablespoons tamari soy sauce
Method:
Combine the garlic, turmeric, ginger, stock, water and chicken into a large pot.
Simmer for 5 – 10 minutes over a low heat until chicken is cooked through and flavours have infused into the stock.
Add mirin, tamari and coriander just before serving.
Serve in large bowls and sip slowly. Enjoy.
Notes:
Vegetarians can use vegetable stock in place of chicken stock and use my lane kluski or organic silken tofu in place of the chicken to boost protein.
For lane kluski (polish for egg noodles) beat 2 eggs and pour in a thin stream over the simmering stock for the best egg noodles you'll ever eat.
Fresh turmeric is available from your local grocer. if using dry then only use 1/4 teaspoon but fresh is best for it's anti-viral properties.
Other vegetables can be added if you like such as shiitake mushroom, spinach, kale.
You can make this soup using a whole chicken, using all of the stock and removing the tender meat from the chicken then stirring through the stock before serving. This will take approx 1  1/2 hours.
From www.thehealthychef.com