Exercise for Better Health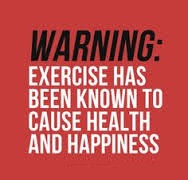 We often talk about the importance of exercise (aka physical activity) and how it can improve your health. You've heard &/or read it in the media how it can reduce the risk of developing diseases like type 2 diabetes, cancer and cardiovascular disease. It's human nature to think "it won't happen to me" and I certainly hope that this is the case for you! But I'm sure you know someone who it has happened to. Prevention is always the better alternative don't you think?

Physical activity and exercise can have immediate and long-term health benefits. Most importantly, regular activity can improve your quality of life.
Exercise for better health to:
reduce your risk of a heart attack

manage your weight better

have a lower blood cholesterol level

lower the risk of type 2 diabetes and some cancers

have lower blood pressure

have stronger bones, muscles and joints and lower the risk of osteoporosis

lower your risk of falls

recover better from period of hospitalisation or bed rest

feel better – with more energy, a better mood, feel more relaxed and sleep better.
30 minutes a day is all it will take and it doesn't have to be walking on the treadmill, try something new – ultimate frisbee, bushwalking, mountain bike riding. Just get moving! It'll be worth it in the long run.