10 minute Chocolate Crunch Bars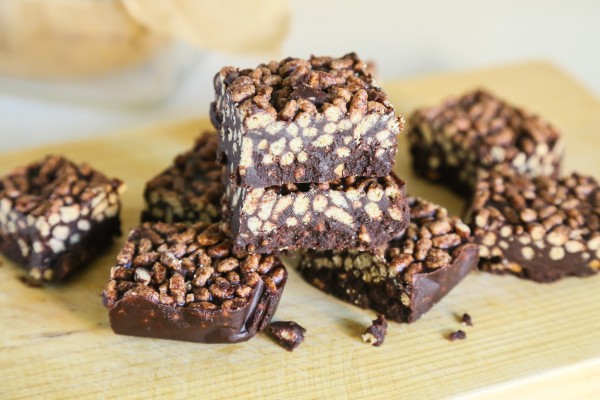 Ingredients
1 cup puffed brown rice (for a grain free alternative use puffed quinoa, amaranth or millet)
1/2 cup melted coconut oil
1/3 cup maple syrup
1/3 cup nut butter (tahini can be used for a nut-free alternative)
1/4 cup cacao powder
1 tsp vanilla extract
Pinch of Celtic sea salt
Flavor alternatives:
– Grate 1 tablespoon orange zest
– 1/4 teaspoon ground cinnamon
– 1/4 cup dried cranberries
Method
1. Line a square baking pan with unbleached parchment paper.
2. Combine all the ingredients together in a mixing bowl and stir until well combined.
3. Place the mixture into the baking pan and freeze until solid (approx. 3-4 hours).
4. Once solid, slice into bars and store in the fridge.