Sweet Potato and Quinoa Fritters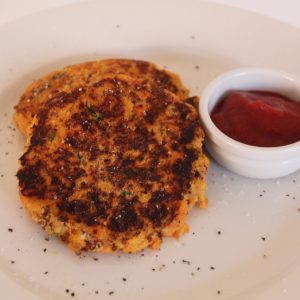 Sweet potato is an excellent carbohydrate source – rich in vitamins, antioxidants, and packed with fibre and manganese, which assist in the carbohydrate metabolism. This helps with healthy blood sugar levels, satiety, hormonal control and exercise recovery.
Quinoa is also a powerhouse food too – gluten free, grain free, high protein and packed full of nutrients including calcium, iron, zinc and B vitamins.
These fritters are an excellent post training breakfast. They are gluten free, sugar free, dairy free and nut free. Serve with a poached egg, a handful of fresh spinach leaves and Sugar Free Tomato Sauce.
_
Ingredients (Makes 6-8)

1 medium sweet potato
½ cup cooked quinoa
1 small handful coriander, chopped
1 egg
1 tablespoon psyllium
2 tablespoons coconut flour, sifted
Salt & pepper, to taste
Coconut oil, for frying
Method
Wash, peel and chop sweet potato. Steam until soft and set aside to cool.
Mash sweet potato in a large bowl and add cooked quinoa.
Add all other ingredients and combine well.
Form medium balls, molding each well with your hands.
Heat coconut oil in a small frypan, flatten the fritters and shallow fry, flipping half way with an egg-flip. Repeat for additional fritters, adding more coconut oil each time. If you are just serving one, store remaining fritters in the fridge and fry fresh as required. Leftovers will keep for a couple of days.
Recipe compliments of www.thenaturalnutritionist.com.au