Spiced Eggplant & Quinoa Rolls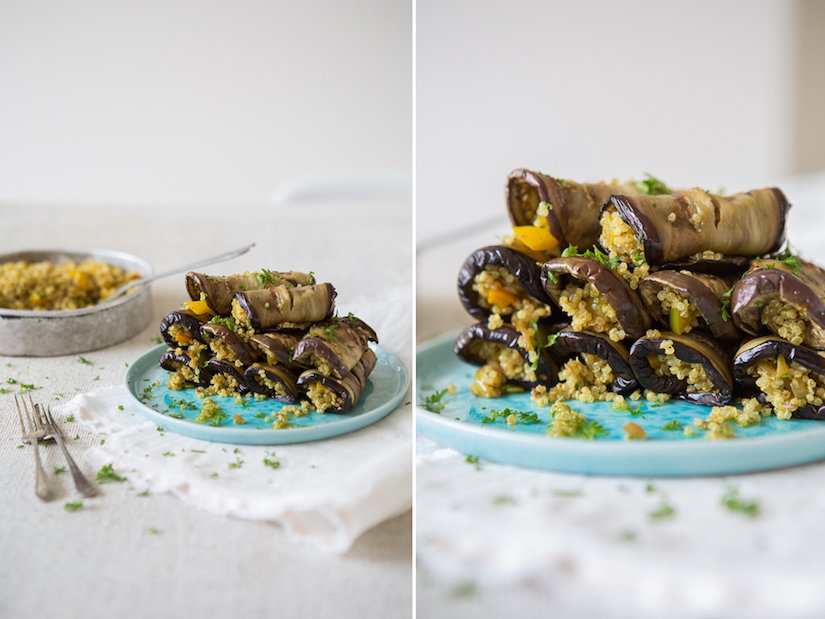 These spiced eggplant & quinoa rolls are delicious!
Ingredients
½ cup of washed quinoa
1 cup of water (to cook the quinoa in)
2 tbsp rice bran oil
1 small onion diced
1 tsp garam masala
¼ tsp turmeric powder
1 tbsp finely grated fresh ginger
Pinch of hot chili powder (or more if you like spicy food)
Half a medium sized capsicum chopped
3 medium sized eggplants, cut into ½ inch thin slices
½ cup olive oil
Salt for seasoning
A handful of parsley for dressing, finely chopped
Method
Bring quinoa and water to a boil in a small saucepan. Reduce heat to low, cover and simmer until tender and most of the liquid has been absorbed (about 15 to 20 minutes).
While the quinoa is cooking, add the oil and onion to a medium sized saucepan on medium heat.
Once the onion starts to brown, add in the garam masala, turmeric, ginger, chili stirring to coat the onions in the spices well. Cook for  2-3 minutes.
Add in the capsicum and stir to combine all ingredients well. Reduce heat to low and cook until the capsicum is soft. Season to taste.
Combine the cooked quinoa and spicy onion and capsicum and mix well. Set aside.
For the eggplant, preheat a medium-high charcoal grill on a barbecue or stove grill. Brush both sides of the eggplant slices with olive oil and season with salt. Grill until golden-brown grill marks form, which should take around 3 to 4 minutes on one side. Turn the eggplant and repeat the same process.
Once all the eggplants are done. Start adding 1-2 tbsp of quinoa mixture at the bottom of each eggplant piece and roll tightly. You can use toothpicks to keep together if they are coming undone easily. I find that placing the end of the eggplant facing the plate helps to keep it in place. Roll all the eggplant pieces and sprinkle the stack with some fresh parsley and a little more olive oil drizzled over the top.
You can serve this warm or cold on its own or with some hummus.
This recipe is from www.theminimalistvegan.com