Lunch box and Snack Ideas for Everyone!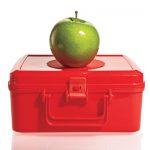 No more soggy sandwiches, boring biscuits or sugar laden snacks. We've put together some quick and easy healthy lunch box and snack ideas for everyone to enjoy!
Whether you're trying to fill up that lunch box for school or cut down the money spent at the local cafe – there will be something here that will tickle your taste-buds!
Recipes:
Other ideas:
Sticks – Cheese, Celery, Carrot
Dips – hummus, tahini, nut butters
Natural yoghurt – freeze portions in a container overnight so they're nice and cold for lunch
Fruit – Apple, Strawberries, Cherries, Grapes, kiwi (take a spoon and scoop it out)
Frozen orange slices & Frozen grapes – eat straight from the freezer or pack for lunch
Dried fruit – organic and without preservatives is best
Rice crackers (without MSG)
Boiled Eggs – organic is best
Raw nuts and seeds – cashew, brazil, almonds, walnut, macadamia, sunflower seeds, pumpkin seeds, chia seeds
homemade soups
avocado
Chicken, turkey slices, good quality sausages