Free range eggs?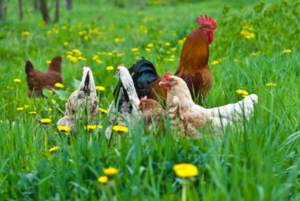 I love my eggs scrambled in butter, side of bacon, tomatoes, mushrooms and spinach leaves, sprinkled with Himalayan salt, and sour dough bread with avocado on the side – makes for a happy girl!
But I am careful to buy organic or free-range eggs and have done so for as long as I can remember. However, I was saddened/angered/disgusted to hear that some of the free range eggs that I thought were ok to buy aren't!? I knew the interpretation of "free range" could be a bit loose, and would invoke images of chickens walking around freely outside during the day and housed comfortably and safely at night. But as of March 2016:
'Free-range' can mean eggs produced by hens stocked at up to 10,000 birds per hectare, not the maximum 1500 per hectare that the CSIRO Model Code recommends.
Egg cartons will have to display stocking densities, but there's no requirement for to chickens to actually go outside.
Most major producers of eggs labelled 'free range' stock at 10,000 hens per hectare. Brands with this stocking density include:
Aldi (Lodge Farm Free Range Eggs)
Coles Free Range
Ecoeggs
Farm Pride Free Range
Pace Farm Free Range
Woolworths Free Range
So I've just downloaded the free app – CluckAR – that's so easy to use, you simply point your smartphone camera at a carton in the supermarket, and get a clear picture of which brands are selling eggs from the most chilled-out, happy hens. And it's powered by CHOICE's unbiased, up-to-date research, so you can be sure you're getting independent advice on which eggs are worth, well, shelling out for.
I know I'll be trawling through the shopping aisles checking out which brands are best at my next shop. How about you?
Check out the Choice Australia boycott bad eggs for the full article.
July 11, 2019