Chia Seed Pudding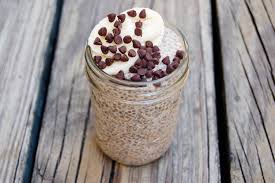 This Chia seed pudding recipe is my go to – for myself and clients – for an easy breakfast, or simple snack.
Ingredients:
1 cup coconut cream or coconut milk (or any milk you like)
¼ cup Chia seeds
1 tsp organic vanilla extract
Optional Extras:
A shake of cinnamon (optional)
Raw honey, liquid stevia, maple syrup to taste
Berries (fresh or frozen) to top, or any other fruit (I love it with fresh passionfruit)
Soaked raw nuts (soak in filtered overnight with the pudding)
Mix all the above together in a tall glass or jar (or any other vessel you fancy) and place in the refrigerator for at least a few hours or overnight. You need the chia seeds to soak up all the liquid and expand.
This makes a wonderful quick breakfast (because you have made it the night before…no excuses of having no time in the morning to eat well) or a delicious and unusual dessert when friends come over…
The pudding lasts a few days in the fridge so you can make a big batch and share!